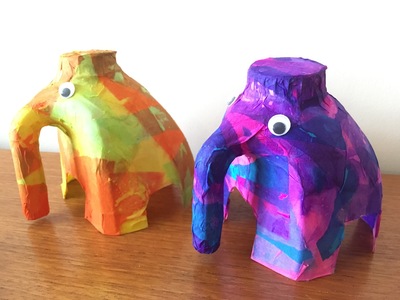 How To Make The Milk Bottle Elephant:
Cut the top off the milk bottle at the bottom of the handle.
The handle becomesthe elephant's trunk.Cut out some arches to make legs for the elephant.
Cover the elephant with pieces of tissue paper, sticking it on with PVA glue or paint it
Stick on Googly eyes when it's dry.
My "Milk Bottle Elephant" for the Elephant competition.
I made mine with white tissue paper and glue. Then I painted it with blue, yellow and green paint.
I made ears out of the bottom part of the milk bottle and a tail out of a pipe cleaner and some wool.